***
Step #3 – Newsletter
Soon after my website was up and running, I
asked my webmistress, who was also a multi-published author, what were her
suggestions for the best promotional tactics. She suggested starting up a
newsletter. Her idea was that anyone who signs onto your newsletter is
interested in what's happening to you, and they will stay with you as long as
you don't inundate them with too much 'yada yada' (my words) about
inconsequential nothings – write when you have news! This has been one of my
best-loved choices. Shamelessly, I started the newsletter using all my personal
friends' names, and then we set it up on my website that anyone who wants to follow
me can enter their e-mail address. It's lovely to see new people every time I
send out another blurb, which I only do when I actually have something super to
tell them (new contracts, books being released, etc.)
After three years, I still enjoy writing the
newsletter, but I'm not sure if it's a strong promotional tool. I do have the
ability to see how many people open them, but I have no idea if they actually read
my news, or if any sales can be directly attributed. I only write the
newsletters periodically during the year, keeping to my promise of sharing the
big news and not just the regular small stuff like a new review, or that I
finished another chapter in the WIP, etc.
I have about 350 people on the list, but since I
started blogging just recently, I mostly direct everyone to my blog rather than
my website and so the 'sign-ups' from that avenue have slowed down some. Soon, I will figure out
how to hook the newsletter to my blog and collect the names in both places. Another
'to-do' for that infernal everlasting list.
I've been blog-hopping recently which brings
more traffic to my page, and so I came up with a brilliant plan. I've warned everyone who enters a contest on my
blog and leaves their e-mail address that I'll be automatically adding them to my
newsletter. Not only has my list begun to grow again, but hopefully with this practice,
I'll find lovely new readers and maybe they'll find an author who writes the kind of books
they want to read. A win-win situation!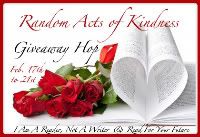 http://iamareadernotawriter.blogspot.com/2011/12/random-acts-of-kindness-giveaway-hop.html
For this Randon Acts of kindness Blog Hop I will be happy to present the lucky winner with a $10 Amazon Gift certificate. All you need to do is leave a comment with your e-mail address. And, I'll be adding your names to my newsletter list, so I hope you won't mind getting a periodic note from me telling of new releases and special news!
Also, anyone who is willing to write a review for My Cheeky Angel needs only to e-mail me at mimibarbour@hotmaildotcom and I will gladly send you a free pdf copy. There's a promo I'd love to enter, but I need at least 20 reviews before they'll accept me. I only have 9…sigh!!
Latest review for My Cheeky Angel!
another 5 stars
so cool!!
5.0 out of 5 stars My Cheeky Angel, February 3, 2012
This review is from: My Cheeky Angel (Angels with Attitudes) (Kindle Edition)
My Cheeky Angel (Angels with Attitudes)
I started reading My Cheeky Angel the other day and couldn't stop.
Somewhere around 2:30 to 3:00 in the morning I finished it but it's been
quite awhile since I stayed up because I just had to see what happened
next. I loved Annie and Ty along with their guardian angel, Celi. It was a
nice twist to have an angel with a gravelly voice from smoking in place of
some ethereal being who seems too perfect to have ever been an earth bound
mortal.
Pat Amsden