~***~
7. Goodreads – Again, I have to admit to taking
on
Goodreads
with
a lot of enthusiasm, which did wane after a while. It's time consuming for an
author – but well worthwhile. Because as a reader, and I admit to being a
reading freak, it's a wonderful place to find others who like the same kind of
books as you. I've met some of my favorite people here, people who I now
consider friends, and therefore I try and spend as much time as I can in
keeping in touch with them.
Even though I've covered the best of Goodreads
in my original blurb, I must delve into the benefits a bit more. For every
author who is trying to make her way in the social media maze, she/he needs to
find readers. The best part about Goodreads is that everyone involved is a
booklover, which is what has brought them there in the first place.
This is a site that works something like
twitter. The more active you are, the more people see you and want to be
friends. The more friends you have, the more people see you….
If you're a writer, once your friends become
familiar with your name – because in our industry a lot depends on name
recognition – they have more of a tendency to choose your book over others.
It's a well-known fact that this works in an author's favor. Add to that a
killer book cover and a great story, and the next step is those same friends
taking the time to write you a review.
And reviews make such a
difference to not only the fortunate author, but to many readers. They're used
as a guide in helping them make choices. Myself, I like to see that others have
enjoyed the book that interests me.
Friends get to trust
the references from others who enjoy the same genres, especially if their likes
and dislikes are similar. It can lead to interaction between each other and a
closer link is formed. And that's what it's all about. Linking with each other
over a subject of interest to us all. Books!!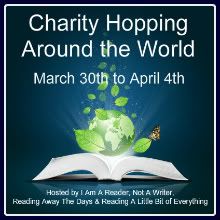 My Favorite charity has to be the Cancer Society. It's true that there are so many wonderful causes out there in the world quietly helping people to make the most of their lives. But for me, that dreaded disease has taken loved ones from my own family and probably has affected more people's lives than anything else I can think of. It's a battle we've won in some instances, and totter on the verge of breakthroughs for others. In time, maybe no one has to die from cancer. With our help…
For this Charity Hopping Around the World Blog
Hop I will be happy to present the lucky winner with a $10 Amazon Gift
certificate. All you need to do is leave a comment with your e-mail address.
I'll be adding your
names to my newsletter list, so I hope you won't mind getting a periodic letter
from me telling of new releases and special news!
~***~