Just had to share with you my page on
I know a lot of you have been waiting for this contest.

Here it is live for the whole month of February.

So…

please let all your friends know about it!

Tell your mom and her pals who grew up with the King!

Share this link with your Facebook buddies and twitter followers.
It'll be fun to see which of his songs will grace the cover of

book #2 in the Elvis series.

And whose name will be a character…

…and who will have the book dedicated to them???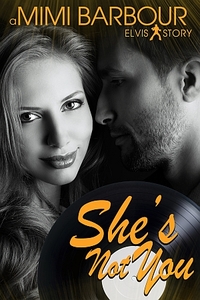 Calling all Elvis fans!
Mimi Barbour wants your help! It's name her next book from your favorite song time.
Here's what the winner will receive:

1. The winner will have his/her favorite song chosen as the title and theme for the next book in the Elvis series.

2. It will be dedicated to the winner.

3. And their name will be used for one of the characters.

Does his music make your heart swoon or your feet start to jive? Every time you hear one of his tunes, do you find yourself singing along? Which melody is your favorite? Here's your chance to see that special song in the pages of a romance novel!
To enter this contest you must choose your favorite Elvis song (remember, Hound Dog or Blue Suede Shoes will NOT make a good title for a love story LOL). Fill in the contest entry form. Only members of Mimi's list can be picked as the winner for this fun event. Therefore, your e-mail numbers will be added to her newsletter.
SHE'S NOT YOU
is the Book #1 of the Elvis series. This will be very similar to what you'll see when your song gets chosen as Book #2
Review on Amazon:
Format:Kindle Edition
Add in Belle, a young, single mother who's desperately in need of some care and attention and you've got the ingredients for a perfect Christmas story. Mimi Barbour delivers a story of love, forgiveness and second chances in her trademark style leaving us with a lump in our throat.
Elvis lovers may want to listen to his music as they read. But with or without a soundtrack this is a Christmas story that will stand the test of time.