I'm thrilled to announce that our newest Author's Billboard box collection is now released
on Amazon and it's only 99 cents! (or… Free in Kindle Unlimited) 
It's a beautiful set based on weddings – what could be more appropriate for the
month of June – the traditional month for brides.
The dreams of every young woman in love lead to this one day of her life, the day she truly becomes a princess, that special day she will remember for the rest of her life… her wedding day. EIGHT New York Times and USA Today bestselling authors bring you eight stories of memorable weddings, spilling over with nervous tingles and overwhelming moments. Experience the euphoria of wedding-day bliss, cry a river of happiness and celebrate the joy over and over again with these happy ever after tales.
A Reader's Favorite winner! A #1 Bestseller.
A beautiful life at the beach is marred when Jack has a heart attack
on the train from Manhattan.
His wife and his two lovers discover secrets and lies… and each other. 
**Suzanne Jenkins is one of my favorite authors and has had an astounding career.
In this Pam of Babylon series alone, she has written 17 books. 
Here's some of her Bio on her Amazon page. What a talented lady! 
I'm thrilled to be working with her in the Authors' Billboard. 
I had the honour of being interviewed on the All Author's blog recently – here's the full interview.
It was a hoot…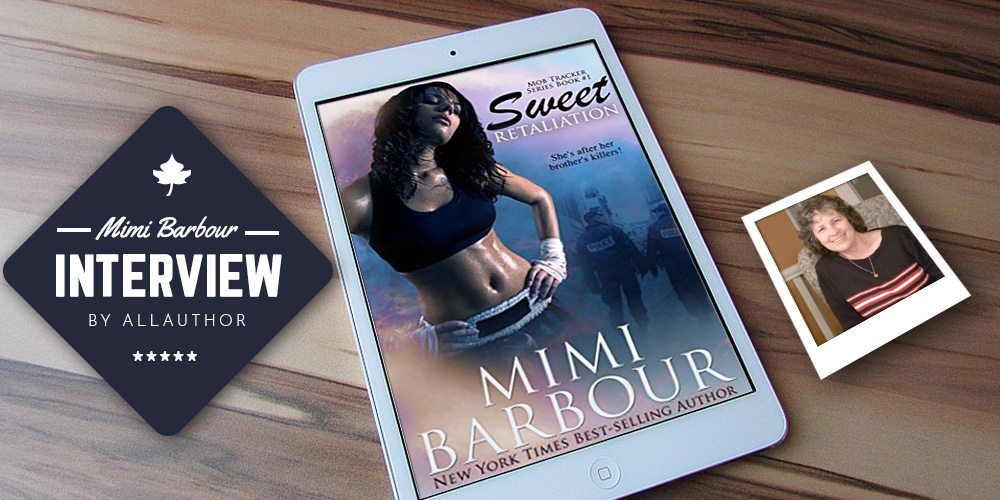 Starting reading at a young age with Nancy Drew, moving to Archie comics and evolving into a reader of romantic suspense books, Mimi Barbour decided that she wanted to tell stories and wrote her first book at the age of fifty-five. Living in various places through her life and collected various experiences to put into words, Mimi writes romance novels which is a genre she always enjoyed reading, even when she describes herself as a tomboy while she was growing up. Saying she would choose to rather shoot herself if she has to choose one between reading and writing, Mimi has seven series of books to her credit and numerous single titles.
Planning to write Sweet Leni as the next book of the series- The Mob Tracker, and supporting other authors through a group called The Authors' Billboard, Mimi has come a long way from bribing her own son to edit her first book to being a bestselling author who believes that being an author is demanding and non-ending. Read full interview…
Surprise!! A Giveaway!!
You must remember that you have the choice if you want to enter it or not.
Please do not feel that you must give over your e-mail address if you choose not to.
Win a Kindle or Subscription to Kindle Unlimited!
(1) Grand Prize Winner Kindle Paperwhite Reader
(1) Grand Prize Winner Kindle
(2) Grand Prize Winners of 6 month Subscription to Kindle Unlimited!
AND gain access to the AXP guide to 70+ Top Kindle Books & Series you can read for FREE through KU!
Kindle Unlimite Library includes books by the authors participating in this event: Anna Celeste Burke, Joan K. Lacy, Kimberly C. Miller, DJ Bryce, Zanna Mackenzie, Lucinda E Clarke, Emma Cartwright, Ted Galdi, Dani Haviland, Colleen Charles, Jamie Beck, Kay Ling, Natalie Dean, LaVerne Thompson, Inge-Lise Goss, Alicia Street, K.T. Davies, A. Gardner, Mark Lukens, Marc Secchia, Mysti Parker, Effie Kammenou, Louise Guy, Angie Martin, Meredith Potts, Willow Rose, Jean Pace, Shereen Vedam, Aldrea Alien, Lissa Trevor, Karen MacInerney, Don M. Vail, Bronwen Evans, Linda Lee, Cassie Malone, Bette Lee Crosby, Linda Carroll-Bradd, Charles Levin, Vickie Britton, Traci Hall, Kerry J Donovan, Emma Calin, Mimi Barbour, Elleby Harper, Livia Quinn, Leslie Wolfe, Teresa Burrell, DC Alden, Reina Torres, Sheri Queen, Stuart Thaman, Regina Darcy, Victoria Dougherty, Judith Lucci, Deborah Camp, Colleen Mooney, Justine Avery, D.M. Cain, Suzanne Kelman Sahara Foley Tinthia Clemant, Sharon Struth Tricia Barr Alexa Dare Regine Abel Dee Palmer Bobby Hutchinson, Joanne Fisher, Alicia Best, David Capps, Matthew Mather, Irving Belateche, Amy Vansant, P Nelson, Abby Ayles
This month of May, I promoted Special Agent Maximilian – book #4 in the Undercover FBI Series. A man meets his twin brother for the first time at a Starbucks's cafe in New Orleans. Imagine the shock when a stranger turns around and he sees himself – different hairstyle, snazzy business clothes but his face!! Their lives become entwined when he's forced to take his brother's place… now he's Special Agent Maximilian.
This book will still be selling for 99 cents until June 4th, (Free in Kindle Unlimited). So if you haven't gotten your copy yet, make sure you do so before the price returns to $3.99
For the month of June, I will be promoting Special Agent Kandice – book #3 in the Undercover FBI Series. This woman wants to be tough like the others on her FBI Hostage Rescue Team. And, she wants to impress her new aloof boss, Dan Black. Being the chief hostage negotiator at a bank heist starts the process. Being stalked, kidnapped and beaten helps see it through. In the end,pullingthe trigger comes easy…
This book will still be selling for 99 cents until June 4th and it will then be free for 5 days. (Free in Kindle Unlimited.) So if you haven't gotten a copy yet, now's a good time.
Authors' Billboard Monthly Contest
Great prizes – check it out!!